Aristo Tech HD 5-13 is an active welding helmet for professional MIG/MAG, TIG and MMA welding from low to high current values incl. plasma cutting and grinding. Advanced settings such as grinding mode (DIN 4), delay and sensitivity. Quick Set facilitates adjustment of shade level and sensitivity. Just push the button during ongoing welding to increase/decrease the set value. For greater clarity, the set value is displayed on the cassette's digital display. High optical class 1/1/1/1.
Aristo Tech HD with Hard Hat
By removing the head harness and replacing it with a hard hat adapter the Aristo® Tech HD can be fitted on to Esab's protective helmet.
The combination is very well balanced and comfortable to wear. The Aristo® Tech HD helmet can be detached and reattached in a second.
The specially designed hard hat meets the highest standards and it's equipped with ratchet adjustment.
The Aristo Tech HD stands for "High Definition" and the helmet has been designed for the professional welder who wants the best in protection and performance. The new light weight shell and ergonomically designed headgear offers maximum comfort even when welding for long periods of time. The Aristo Tech offers the latest in digital lens technology, with large viewing area and internal LCD display, providing the welder full control to adjust shade level, sensitivity and delay settings with precision for any welding application.

Lens Technology
• Variable 5-13 Digital control for adjustment of shade level, sensitivity and delay
• Optical Class 1/1/1/1
• 100 x 60 mm viewing area
• Grind mode activated at
• lowest sensitivity
• Comfort Head Gear
• Ergonomic design head gear
• Instant longitudinal adjustment
• New ''TIG+'' mode - Low amp welding function Shell
• New matte/carbon black finish
• Conforms to: CE, ANSI, AS/NZS, CSA
• EN175-B Impact Shell
Maximum sensitivity setting engages the TIG+ mode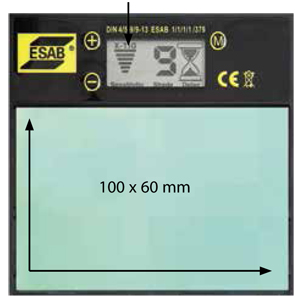 ESABs latest integrated Circuit LENS Technology, o¬ers an
internal LCD display with outstanding reliability, suitable for
all manual welding processes, including plasma cutting.
• Digital Display Screen
• Lens Delay Control
• Visible Shade & Sensitivity Settings

Designed for use with a wide range of welding applications
Front cover lens
The Aristo® Tech HD front cover lens offers the ultimate in Protection. This lens has been coated for increased scratch and heat resistance. Using a specialised injection moulding process, the lens is pre moulded into a convex curve with an optical class 1. This means that the threat of duplicate ghost Arcs visible through the cartridge is eliminated.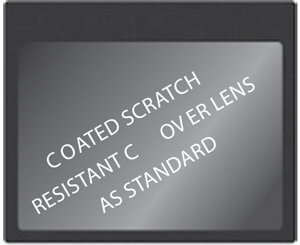 Head Gear
• Robust head gear
• Possibility to move the helmet closer or further away from the face
• Comfortable and replaceable sweat band
• Angled front head band